What: 4th annual PNW Tiburon/Hyundai/Kia meet and cruise
Where: Millersylvania State Park south of Tumwater, WA
When: Saturday, May 15th 2010
Who: Anyone with a Hyundai or Kia, or Hyundai/Kia supporters
Follow this event from the Facebook event page
Dash plaques will be given to the first 20 cars to arrive.
You've asked, so this year there will be an emphasis on an epic cruise. No bbq this year, but pizza will be provided courtesy of
Team X-Culture
and there will be a stop at a restaurant mid cruise.
Cruise route map: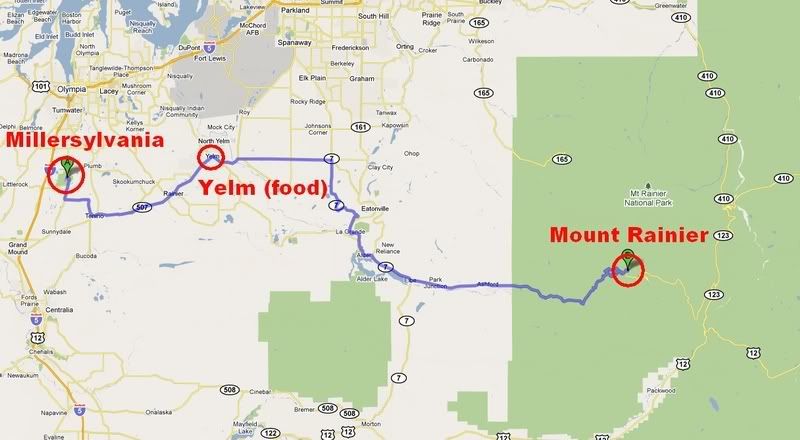 Mount Rainier map
The distance between Millersylvania and Paradise at Mount Rainier is 81 miles. It's a great cruise route. There will be a stop at a restaurant in Yelm for lunch. Yelm is a fairly central point for people not interested in a long cruise but who want to roll with the group. Shortly after departing Yelm the roads will get significantly more interesting. If you've never driven to Mount Rainier it's an experience like none other and I highly recommend it.
This picture is an example of the awesome Mt. Rainier roads
If you're interested in what a trip to Mt. Rainier in May is like, you can look at my
Photobucket album
from my last May trip.
This event will be open to all Hyundai and Kia cars, and you're allowed to bring friends with other makes however for photography/videography purposes anyone without a Hyundai or Kia will be required to bring up the rear of the group and park at the ends for any photo ops. We love having everyone there that wants to come, but we also like showing solidarity with our pictures and videos.
If there is any interest in other activities speak up. Anyone want to have a show with trophies? Let us know what categories you would like to see and we'll see if we can sort it out.
These plans are still a work in progress, any input is appreciated.
Directions to Millersylvania State Park:
Coming from north of the park:
Take I-5 exit 99 for 93rd Ave./WA-121
Turn left on 93rd Ave. at the end of the off ramp and cross over the highway
Turn right onto Tilley Road in 1.5 miles
Turn into the park on the right in 3 miles
Coming from south of the park:
Take I-5 exit 95 for WA-121 towards Littlerock/Maytown
Turn right on Maytown road at the end of the ramp
Turn left on Tilley Road in 2.4 miles
Turn into the park on the left in 1 mile
Address for GPS users:
12245 Tilley Rd S
Olympia, WA
----------
I know I'm new here, but I've been around a lot of other Hyundai forums for several years.
As of right now we have 35 cars that say they're coming to the meet. With the typical flake rate I expect 25-30 of those people will show up. There's quite a while before the meet though so I'm hoping a few more people will decide to show. It would be really great to have some Genesises (Genesii?) show up and cruise with us.